Although standard X-ray pictures have been greatly refined through the years, they are still commonly used in the ICU and are of great value in treating patients. These two-dimensional pictures are similar to standard photographs, except radiographs show internal structures. Getting a standard X-ray is totally painless and is very safe.
Standard X-rays
Common ICU X-ray types include: chest, abdominal, spine and extremity (arms, legs, hands and feet).
The chest X-ray helps the doctors and nurses diagnose and follow the progress of heart and lung problems. A chest X-ray is often taken following the placement of a central intravenous (the term "IV" is also used for intravenous) catheter or a heart monitoring catheter (also called a pulmonary artery catheter), in order to confirm the position of the catheter.
Abdominal X-rays provide information about problems within the abdominal cavity. They are also used to confirm position of tubes that are placed into the stomach or small intestine.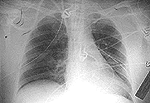 Standard chest X-ray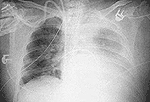 Standard chest X-ray indicating buildup of fluid in the pleural cavity, called pleural effusion